LABIAPLASTY
IN
PHOENIX, AZ
Vaginal Rejuvenation & Labiaplasty in Phoenix, Scottsdale, Gilbert, Mesa, Paradise Valley and surrounding Arizona
Labiaplasty is a cosmetic procedure aims to correct hanging, misshaped, and discolored labia minora (the inner vaginal lips). Disproportionately large and deformed labia may cause embarrassment or physical discomfort to women. Scottsdale and Gilbert plastic surgeon – Dr. Jude LaBarbera – aims to deliver the best labiaplasty Phoenix has to offer. He performs labiaplasty (vaginal rejuvenation) surgery to help women in Mesa, Gilbert, Scottsdale, Phoenix, and surrounding Arizona areas improve the size and appearance of their labia. Many women who request this procedure have long inner lips that protrude beyond the outer lips of the vagina.
This can be very uncomfortable because the labia rubs undergarments. It can also lead to decreased sexual satisfaction, as well as pain during sexual and physical activities. Labia asymmetry or enlargement are common conditions can affect women from their late teens and throughout adulthood. The most common causes of this enlargement include pregnancy and childbirth, hereditary conditions, aging, and congenital anomalies. Dr. LaBarbera performs labiaplasty as a purely cosmetic procedure and aims to remove excessive labial tissue without impacting the functioning parts of the vagina.
Ideal Candidates for Phoenix Labiaplasty
Many patients have labiaplasty for either cosmetic or functional reasons. Dr. Jude LaBarbera works closely with all his patients to achieve the best results with the procedure. During your initial consultation, Dr. LaBarbera will determine whether the procedure is right for you, and let you know what to expect. For the right candidate, the surgery can have a dramatic impact – providing long-lasting relief from embarrassment and discomfort that many women experience. Women who are good candidates for Phoenix labiaplasty or any vaginal rejuvenation procedure:
Looking to improve the symmetry of the inner vaginal lips (labia minora)
Have discomfort during sex
Wish to reduct the the size of the mons pubis (mons pubis liposuction), or achieve a sleeker and more refined labial contour
Self-conscious about the appearance in a swim suit
Wish to reduce the size of their clitoral hood (clitoroplexy)
During your initial consultation, Dr. LaBarbera will examine your labia and recommend the best plan to move forward.
LABIA REDUCTION SURGERY
PROCESS
The first step for a successful labia reduction procedure is consulting a highly skilled cosmetic surgeon in Mesa or surrounding areas.
Step two, you will need to decide how drastic or minor you would like your labia reduced. Some patients want nearly no labia, while other patients want some.
Depending on your body and amount of labia excision you choose, Dr. LaBarbera will choose the best labiaplasty method to achieve your women's rejuvenation goals.
During the vaginal rejuvenation surgery in Arizona, Dr. LaBarbera uses a modern surgical tools to reshape the labia minora, also knowns as the inner lips of the vulva. This process entails making a 'V' shape wedge to the vaginal lips in order to trim down the labial tissue to a cosmetically pleasing size.
The plastic surgeon then reconstructs the vaginal lips to meet the patient's cosmetic goals and ensure that the natural color and contouring of the pubic area is preserved. This is all done while utilizing a surgical approach that minimizes scarring.
Finally, Dr. LaBarbera then uses dissolvable sutures to seal the incisions.
In the past, an 'amputation' method was used to correct tugged or twisted labia with little to no regard on the aesthetics. As long as the patient chooses a skilled women's rejuvenation surgeon, the Phoenix labia reduction patient can expect advanced reshaping techniques to reduce the size of the labia and preserving the nerves, all while crafting a cosmetically appealing outcome.
FEATURED
PATIENT GALLERIES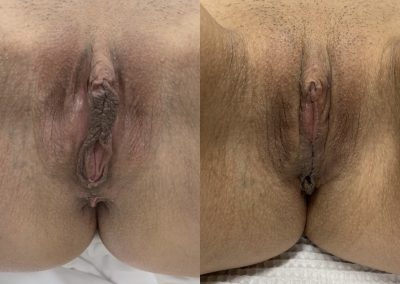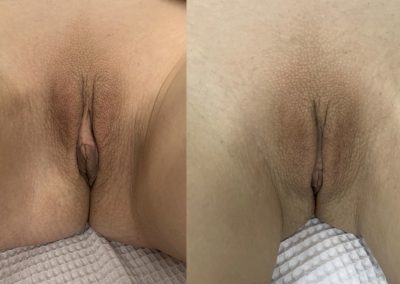 Your Initial Consultation
with Dr. Labarbera
When you visit for your initial consultation, Dr. Jude LaBarbera will get to learn more about your concerns and expectations. He will go over your medical history, conduct thorough examinations of your vulva region, and help you understand what can be realistically achieved with labiaplasty. The risks, of the surgery and recovery process, will be explained to you in great detail, and a cost estimate provided. This initial consultation visit is also a great opportunity for you to ask any questions you may have about your labia and the surgery, and your expected outcome.
DURING/AFTER LABIAPLASTY SURGERY
Labiaplasty is an outpatient procedure that can be performed under local anesthesia or general anesthesia, depending on the patient's comfort level.. The surgery takes 1-3 hours to complete, depending on the extent of the defects to the labia. After surgery, patients are able to go home the same day, from where they can continue the recovery process. Labiaplasty patients are required to avoid activities that may cause bleeding or swelling, including sexual activity, exercise, use of tampons, and douching. The majority of patients are able to recover in just 4-6 weeks post-surgery.
WHAT TO EXPECT FROM LABIAPLASTY
Many women who receive a labiaplasty record an improved quality of life. This could be one reason the procedure had a 39% increase in 2016. Dr. Jude LaBarbera aims to address the discomfort that many patients experience in the vulva area while at the same time enhancing the cosmetics of this area. Dr. LaBarbera undertakes comprehensive, private, and informative consultations with each one of his patients. Should you choose to move forward with this procedure after the initial consultation, he'll help you understand what you can expect and prepare for the surgery.
The cost of the surgery varies from one patient to the other, usually depending on the scope of the procedure. Labiaplasty cost in Phoenix, AZ, varies on the patient's needs. If a patient decides to move forward with the procedure and does not have the funds, Dr. LaBarbera offers reasonable labiaplasty payment plans with CareCredit. While in your consultation, one may consider other vaginal rejuvenational procedures such as Mons Pubis Reduction (mons pubis liposuction) and Clitoral Hood Reduction (clitoroplexy). He performs all these in an ultra-modern office operating room in Phoenix, Arizona, Mesa, Gilbert, or Scottsdale. He is also supported by a professional team of highly licensed staff.
FREQUENTLY ASKED QUESTIONS
Labiaplasty may be performed individually or combined with other plastic or cosmetic surgery procedures such as liposuction, breast augmentation, and/or abdominoplasty. If you feel that you also need to improve your breasts or another part of your body, let Dr. LaBarbera know so he can create an effective treatment plan.
Just like with any other surgical procedure, patients will experience some numbness in the affected area after labiaplasty surgery. This effect is temporary and quickly fades away as the vaginal lips and surrounding skin heals. As one of the qualified labiaplasty surgeons in Arizona, Dr. Jude LaBarbera employs advanced surgical techniques to minimize scarring and preserve the nerves in the vaginal area.
Patients do not need to be hospitalized for labiaplasty / vaginal rejuvenation, therefore it is an outpatient procedure. Depending on the patient, the surgery takes 1-3 hours to complete, and patients are able to go home shortly after the procedure.
Jude LaBarbera MD Plastic Surgery of Scottsdale & Gilbert has provided this website for informational purposes only. This website does not constitute formal medical advice. Please contact our office to schedule your plastic surgery consultation to further discuss your medical needs. Serving Gilbert, Phoenix, Scottsdale, Glendale, and other surrounding cities in Arizona, including Paradise Valley, Chandler, and Mesa AZ.