EYELID SURGERY

PHOENIX AZ
Eye Bag Surgery in Phoenix, Scottsdale, Gilbert, Mesa, Glendale, Paradise Valley and surrounding AZ
Also known as blepharoplasty, eyelid surgery is a cosmetic procedure designed to address baggy or wrinkled. Drooping eyelids are often caused by loss of skin elasticity, typically due to aging. Fat deposits under or above the eyes, in conjunction with thinning skin, can cause sagging that exaggerates undesirable eyelid features. Saggy eyelids age your face, lead to a 'tired' appearance, and sometimes even limit your sight. Many men and women choose to have eyelid surgery in order to correct issues with lower eyelids that are baggy, and upper eyelids that appear 'hooded'. Dr. Jude LaBarbera specializes in blepharoplasty to help remove undesirable eyelid features. This surgery may be performed alone, or together with other facial rejuvenation procedures such as brow and neck lifts. He has helped countless patients – some as young as 35 – achieve a softer, more alert and youthful look with blepharoplasty.
REASONS TO HAVE EYELID SURGERY
Blepharoplasty can help treat:
Bags under the eyes
Excessive fatty deposits that lead to puffy eyelid
Lax or saggy skin that folds or disturbs the contouring of the upper eyelids
Fine wrinkles and excessive skin in the lower eyelids
Drooping lower eyelids that show the white of the eye below the iris
Eyelid surgery aims to give patients with drooping eyelids a more youthful and alert appearance. Dr. Jude LaBarbera works individually with each one of his patients and formulates an effective plan to achieve the desired results.
YOUR INITIAL BLEPHAROPLASTY CONSULTATION
The first step is to visit Dr. LaBarbera at his Scottsdale or Gilbert AZ office. During this initial visit, the surgeon will examine your eyelids, understands your motivations for having eyelid surgery, and answer any questions that you may have. Dr. LaBarbera will collect information on your medical history, and discuss the best way forward to address the problem. If you are a good fit for blepharoplasty, the surgeon may recommend that you start making preparations for the surgery.
Blepharoplasty may be performed on the lower eyelid, the upper eyelid, or both. The goal of this cosmetic and sometimes functional procedure is to maintain the natural look of the eye. There may be minor differences depending on the eyelid to be operated on (upper or lower) but the method is generally similar. Your surgeon will work to remove any loose tissue or skin, as well as extract and reposition fat deposits.
Eyelid surgery is usually just to treat issues with the upper or lower eyelids. It does not correct related cosmetic issues such as dark circles, wrinkles, or crow's feet. However, Dr. LaBarbera can come up with a plan that addresses these issues in conjunction with blepharoplasty. The term eyelid rejuvenation is used to describe eyelid surgery and other adjustments that need to be made to achieve the desired cosmetic appearance.
Many patients have excess skin that hangs over (droops) over the eyes. This affects the facial appearance, and can also impede the patient's eyesight. The surgeon will treat this problem by making an incision line along the eyelid's natural crease to remove excess fat, tissue, and eliminate any bulges as well. In some situations, it may be necessary to reposition the fat tissues instead of removing them. The last step is to trim away the excess skin and close the incision sites with fine sutures.
Lower blepharoplasty corrects the bulging or sagging appearance underneath the eye. The surgeon has various options with regards to the incision site. The first approach is to make an incision below the lower eyelash in order to remove excess fat, skin, and tissue. Alternatively, Dr. Jude may use a transconjunctival incision, which is a cut inside the lower eyelid. The latter method is common for patients with good skin elasticity and helps hide the resulting scar. For patients who have dark circles around their eyes, the surgeon may recommend blepharoplasty in conjunction with other procedures such as chemical peels or injectable fillers.
Eyelid surgery is typically an outpatient procedure that is performed under general anesthesia. If the procedure entails both the upper and lower eyelids, the surgeon will work on the upper eyelid first. The surgery takes 1-2 hours to complete, depending on the extent of the procedure. Patients are usually able to go home on the same day, to continue with recovery there. Over the first few days after blepharoplasty, swelling and discoloration are common around the area. Patients are advised to rest with their head elevated. The surgeon may provide pain medications, antibiotics, and instructions to ensure an uninterrupted recovery process.
PLANNING YOUR
EYELID REJUVENATION SURGERY
The average cost of eyelid surgery can vary depending on which eyelids and how many eyelids need surgery. In most cases, insurance does not pay for blepharoplasty. There might be exemptions, so it's important to work with your insurance coordinator to find out if you are eligible. Many of the patients who are covered by insurance have drooping eyelids that affect their vision. Dr. Jude LaBarbera performs blepharoplasty at his ultra-modern operating room, supported by a team of professional and licensed staff. He works with patients from Scottsdale, Phoenix, Mesa, Gilbert, as well as the surrounding Arizona areas .
FEATURED
PATIENT GALLERIES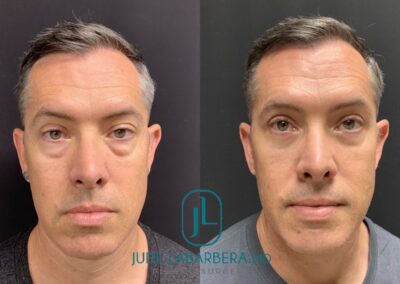 FREQUENTLY ASKED QUESTIONS
Eyelid surgery usually does not lead to visible scars. Skilled surgeons take great care to hide the incision sites within the natural fold lines of the eye. Once healing is complete, there typically are no noticeable signs of scarring. Patients should make sure that they work with experienced surgeons in order to avoid mishaps with eyelid surgery.
While blepharoplasty helps address sagging, drooping and baggy eyelids, it is not a treatment for crow's feet and hollow eyes. Your surgeon may recommend that this procedure is combined with nonsurgical treatments such as BOTOX in order to alleviate these issues.
Although eyelid surgery is primarily a cosmetic procedure, it can also have functional benefits. Many patients who have drooping upper eyelids are able to retain their normal eyesight after surgery.
Jude LaBarbera MD Plastic Surgery of Scottsdale & Gilbert has provided this website for informational purposes only. This website does not constitute formal medical advice. Please contact our office to schedule your plastic surgery consultation to further discuss your medical needs. Serving Gilbert, Phoenix, Scottsdale, Glendale, and other surrounding cities in Arizona, including Paradise Valley, Chandler, and Mesa AZ.